Theme: What's in a name? The first name of a well known person is repurposed as the second word of an in-the-language phrase, and humor ensues.
17 A. Make Todd stay home after a "Meet the Press" blooper?: GROUND CHUCK. Literally, this is GROUND up meat from the front part of the cow, with a high fat content. CHUCK Todd is the regular host of "Meet the press" an hour-long Sunday Morning public affairs program. Being grounded is a stay-at-home punishment for bad behavior. Does he deserve it? You decide.
25. Refuse to let Wood exhibit "American Gothic"?:
BLOCK
GRANT
. A
BLOCK GRANT
is money from central government which a local authority can allocate to a wide range of services.
GRANT
Wood pointed the famous picture cited in the clue.
38. Make Garfunkel pay for breaking a recording contract?:
FINE
ART
.
ART
hur Ira Garfunkel is an American singer, poet, and actor. He is best known for his partnership with Paul Simon in the folk rock duo Simon & Garfunkel. A
FINE
is a punishment for malfeasance.
FINE ART
is creative art, especially visual art whose products are to be appreciated primarily or solely for their imaginative, aesthetic, or intellectual content.
49. Donate twice as much as Gates?:
DOUBLE
BILL
. A
DOUBLE BILL
a program of entertainment with two main items or personalities. To
DOUBLE
somebody is to do twice as well or twice as much in some endeavor. William Henry [
BILL
] Gates III is an American business magnate, software developer, investor, author, and philanthropist. He is a co-founder of Microsoft, along with his late childhood friend Paul Allen.
60. Maneuver Phillips into telling how he got the "Dateline NBC" job?:
CORNER
STONE
. This is the
STONE
that forms the base of a corner of a building, joining two walls. Presumable the most important item in the base of the structure.
STONE
Stockton Phillips is an American television reporter and correspondent. He is best known as the former co-anchor of Dateline NBC, a news magazine TV series.
Hi gang, JazzBumpa here to anchor today's episode. I truly love this theme. Less enamored with the rest of the puzzle, though, which is rather over-endowed in the proper name department. Let's see what else we can report on.
Across:
1. Andre with eight Grand Slam wins: AGASSI. Andre Kirk Agassi [b 1970] is an American former world No. 1 tennis player. He is an eight-time major champion and an Olympic gold medalist, as well as a runner-up in seven other majors.

7. Russell of "The Americans": KERI. Keri Lynn Russell is an American actress. She portrayed the titular character on the drama series Felicity, which won her a Golden Globe Award, and Elizabeth Jennings on the FX spy thriller series The Americans, which earned her nominations for several Primetime Emmy and Golden Globe Awards.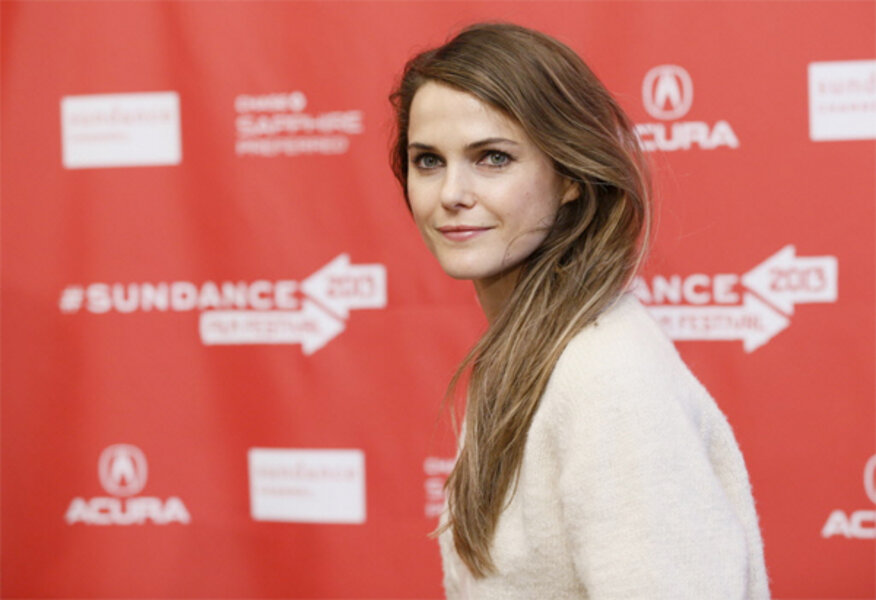 11. Indian state in the Western Ghats: GOA. Goa is a state in western India with coastlines stretching along the Arabian Sea. Its long history as a Portuguese colony prior to 1961 is evident in its preserved 17th-century churches and the area's tropical spice plantations.

14. Lanai furniture material: RATTAN. a type of material that is used in wicker weaves. Rattan is a naturally growing vine like species that is native to tropical regions of Australia, Asia, and Africa. For production use, the skin is peeled away and utilized for weaving purposes.

15. "You said it!": AMEN.

16. Furthermore: AND. Not only that, but. . . .

19. Untruth: LIE. Mendacity.

20. Large planter: URN. A tall, rounded vase with a base.

21. Barnacle spot: KEEL. A barnacle ia a marine crustacean with an external shell, which attaches itself permanently to a variety of surfaces. Barnacles feed by filtering particles from the water using their modified feathery legs. In shipbuilding, the KEEL is the main structural member and backbone of a ship or boat, running longitudinally along the centre of the bottom of the hull from stem to stern.

22. Hoofbeat sound: CLOP.

23. "Breath, __, Memory": Edwidge Danticat novel: EYES. The novel deals with questions of racial, linguistic and gender identity in interconnected ways.

29. LEGO buys: KITS. A set of parts to be put together to make a finished object

31. Long-necked waders: HERONS. Any of various long-necked and long-legged wading birds (family Ardeidae) with a long tapering bill, large wings, and soft plumage. I was lucky to get this picture of one.
32. Iberian peninsula country:
SPAIN
. Along with Portugal, Andorra, Gibraltar, and a sliver of France.
35. Bigelow or DuVernay:
DIRECTOR
. Film makers
37. "__ we meet again": '
TIL
. Short for "until."
41. Regret:
RUE
.
42. Hands over:
ENTRUSTS
.
44. Luxor's country:
EGYPT
.
46. Folklore monsters:
TROLLS
. Large creatures from Scandinavian mythology, typically living in caves or mountains. They are cruel and hostile to humans and other living things.
47. Lavish party:
GALA
.
51. Family nickname:
PAPA
. Bumpa doesn't fit.
55. MLB stat:
RBIS
.
R
uns
B
atted
I
n.
56. Retain:
KEEP
. Hold as one's own.
58. Filing aid:
TAB
. A small flap or strip of material attached to or projecting from something, used to hold or manipulate it, or for identification and information.
59. "You got it":
YES
. Agreement
64. "Mangia!":
EAT
. Italian.
65. "Motor Trend" topic:
AUTO
. A motor car.
66. Pad of paper:
TABLET
. A writing pad.
67. Med. caregivers:
RNS
.
R
egistered
N
urse
s
.
68. Cook up:
BREW
. Devise a clever or devious story, excuse, or plan.
69. Uses delaying tactics:
STALLS
.
Down:

1. Quarrel: ARGUE. Make a fuss

2. "Lincoln at Gettysburg" Pulitzer winner Wills: GARRY. Garry Wills [b 1934] is an American author, journalist, and historian, specializing in American history, politics, and religion, especially the history of the Catholic Church. He won a Pulitzer Prize for General Non-Fiction in 1993.

3. Square things: ATONE. Make amends. Here, "square" is a verb, not the adjective you might have expected.

4. Disco __ of "The Simpsons": STU. Stuart Discothèque, usually known as Disco Stu, is the owner of Stu's Disco. He is a disco aficionado and is usually featured wearing a rhinestone-encrusted leisure suit from the 70's and sports an Afro. The son of Doo-Wop Steve and Public Domain Debbie.
5. Went to the bottom:
SANK
. [Glub]
6. Behind, so to speak:
IN DEBT
. Failing to make payments, as due.
7. "The Two Fridas" painter:
KAHLO
. Magdalena Carmen Frida Kahlo y Calderón [1907 - 1954] was a Mexican painter known for her many portraits, self-portraits, and works inspired by the nature and artifacts of Mexico.
The painting
is a double self-portrait.
8. Bird that won't fly away: EMU. The second-largest living bird by height, after its ratite relative, the ostrich. It is endemic to Australia where it is the largest native bird and the only extant member of the genus Dromaius.

9. __ room: REC. A place dedicated to fun and games.

10. HP product: INK. Stuff you can print with.

11. Valor: GALLANTRY. Courageous behavior, especially in battle.

12. Bowlful often topped with melted GruyËre: ONION SOUP.

13. Skilled (at): ADEPT.

18. Animator's sheets: CELS. Transparent sheets of celluloid or similar film material, which can be drawn on and used in the production of cartoons.

22. Gator kin: CROC. Large aquatic reptiles in the Crocodilia order. They have mostly different habitats.
I give you now Professor Twist,
A conscientious scientist,
Trustees exclaimed, "He never bungles!"
And sent him off to distant jungles.
Camped on a tropic riverside,
One day he missed his loving bride.
She had, the guide informed him later,
Been eaten by an alligator.
Professor Twist could not but smile.
"You mean," he said, "a crocodile."
-- Ogden Nash
24. Need a lift, maybe: SKI. The lift gets you to the top of the hill so you can SKI back down.


26. __ seed pudding:
CHIA
. A custard like desert made from chia seeds and some type of milk, with optional flavorings and toppings.
27. Golden State Warriors coach Steve:
KERR
. Stephen Douglas Kerr [b 1965] is an American professional basketball coach and former player who is the head coach of the Golden State Warriors of the National Basketball Association. He is an eight-time NBA champion, having won five titles as a player as well as three with the Warriors as a head coach.
28. Storybook sister:
GRETEL
. Sibling of Hansel. The two children are abandoned in the forest where they are captured by a witch who intends to fatten them up and eat them. Gretel outwits the witch and kills her, and the children escape with her treasure. Arya Stark doesn't fit.
30. Completely:
IN FULL
. With nothing omitted.
32. Sault __ Marie:
STE
. Sault Ste. Marie is the only city in, and county seat of, Chippewa County in the U.S. state of Michigan. With a population of 14,144 at the 2010 census, it is the second-most populated city in the Upper Peninsula after Marquette.
33. Speckled legume:
PINTO BEAN
. A variety of common bean. In Spanish they are called judías pintas, literally "speckled bean". It is the most popular bean by crop production in Northern Mexico and the Southwestern United States, and is most often eaten whole, or mashed and then refried.
34. Humanitarians:
ALTRUISTS
. Those who are concerned with or seeking to promote human welfare.
35. __ Plaines, Illinois:
DES
. A city in Cook County, Illinois, United States. Per the 2020 census, the population was 60,675. The city is a suburb of Chicago and is located just north of O'Hare International Airport.
36. Jobless, in a way: Abbr.:
RET
ired. Having left the work force to to age or infirmity.
39. Archipelago part:
ISLE
. An individual island in a chain.
40. Govt. crash investigator:
NTSB
.
N
ational
T
ransportation
S
afety
B
oard.
43. Steals from:
ROBS
. Unlawfully taking property from a person or place by force or threat of force.
45. Opening:
GAP
.
47. High spirits:
GLEE
. High spirited joy. In Old English this was the specific joy resulting from song. Possibly related to the group of Germanic words in gl- with senses of "shining; smooth; radiant; joyful"
48. Phone notifications:
ALERTS
. Messages sent to help you see information that could potentially save either your life or someone else's.
49. Laundry appliance:
DRYER
. For your laundry.
50. "No need to remind me":
I KNOW
.
52. Ring-shaped reef:
ATOLL
. A coral island consisting of a reef surrounding a lagoon.
53. Group of jurors:
PANEL
. A small group of people chosen to give advice, make a decision, or publicly discuss their opinions.
54. Helps in a heist:
ABETS
. Encourages or assists (someone) to do something wrong, in particular, to commit a crime or other offense.
57. Jr. challenge:
PSAT
. The Preliminary SAT/National Merit Scholarship Qualifying Test is a standardised test administered by the College Board and cosponsored by the National Merit Scholarship Corporation in the United States.
60. Pinot alternative:
CAB
. Short for Cabernet Sauvignon, a red wine made from a variety of black wine grape of the same name from the Bordeaux area of France, now grown throughout the world.
61. Sharing word:
OUR
. Yours and mine.
62. GPS display:
RTE
. Route - a way to get from here to there.
63. Scheduling abbr.:
TBA
.
T
o
B
e
A
nnounced.
So concludes another Wednesday. Have a happy middle of the week.
Cool regards!
JzB