Anything goes, so:
I
From Flood to Final Curtain
But wait -- Entropy?
II
Doom on 5-2-1
Words of mad man or prophet?
5-2-2 we'll know
III
What vengeful God placed
Us in this sad vale of tears
As prelude to

Hell

?
IV
"The chosen" escape
Five months of chaos: the
Spring
Of our discontent
(For explanation click
The underlined words above.
They are active links.)
Blogger editor has screwed me up royally. I lost my first shot at this, spacing is a mess, I can't get 5-2-2 to be underlined, and I have no time to try to fix any of it.
Grrrr!
Update: Hours later, I was able to fix the spacing, but 5-2-2 still remains un-underlined, despite all my feeble efforts, and, alas, one of my haiku vanished into the ether and is now forever lost. Boo-hoo.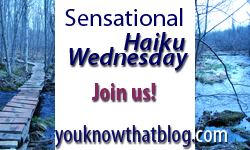 .