Theme:
PHUN WITH FONICS
. Each two word answer has the initial consonant sound /f/ spelt two different ways, with the expected letter "
F
" and with the digraph "
PH
." Without delving too deeply into it, or proposing a general rule, it seems that many words using the "
PH
" digraph are derived from Greek:
ph
ilosophy,
ph
onetics and, for a double whammy,
ph
otogra
ph
.
17 A. Communication device also called a clamshell :
F
LIP
PH
ONE
. A cell phone that folds shut and flips open. This is now a retro design, but is still
rather popular
.
24 A. Verne's circumnavigator :
PH
ILEAS
F
OGG
. The protagonist of Jules Vernes 1873 novel,
Around the World in Eighty Days
.
53 A. Reunion memento :
F
AMILY
PH
OTO
. Here's one of Gloria and 8 of our 11 grandchildren, from her birthday last August.
Some of my favorite peeps
39 A. Gym teacher's concern :
PH
YSICAL
F
ITNESS
. I've been working out this year to do something about my physical fatness. Lost 9 lbs so far.
64. Ben & Jerry's flavor inspired by a Vermont rock band :
PH
ISH
F
OOD
. "Chocolate Ice Cream with Gooey Marshmallow Swirls, Caramel Swirls & Fudge Fish." In my opinion, they fudged on the spelling of Phish. You can read about it - and listen -
here
.
Hi, gang. Jazzbumpa here. With 5 theme entries, one a grid spanner, this puzzle is pretty rich in themeage. Let's see what else we can phind.
1. Choose : OPT. I assume this derives from "option."
4. Metaphorical loss in a bad deal : SHIRT. Presumably indicating the loss of all assets, even one's clothing. Probably related to the expression "I'd give the shirt off my back" for something intensely craved.
9. Salon creations : COIFS. Hair arrangements.


14. Column crosser : ROW. In a spread sheet or crossword grid.
15. Palmer with an "army" : ARNIE. Also a soft drink - tea mixed with lemonade.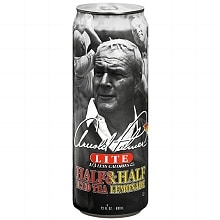 16. "Strange to say ... " : ODDLY. Believe it or not. Once, back in the days when I used to frustrate myself by phlailing with golph clubs, I was playing at Bay Hill - Arnie's resort in FLA - when I hit a drive that never got above 6 inches off the ground, and hit a squirrel square in the head. True story. That's how I became Bumpa the squirrel slayer.
19. Unlock the door for : LET IN. Allow to enter.
20. Match socially : FIX UP. Arrange a date for someone.
21. Tater : SPUD. Potato - suitable for mashing.
23. Anti-apartheid org. : ANC.

A

frican

N

ational

C

ongress. The ruling social democratic party of the Union of South Africa.
28. "Rad!" : AWESOME. Impressive. Because the word "awful" changed meaning from "awe inspiring" to "horrible and repugnant."
31. Consider : DEEM. It was deemed "awful and artificial."
32. All-Clad product : PAN. Cook ware, not the Greek god who consorted with NYMPHS.
33. Yucatán year : ANO. Spanish. More appropriately rendered -- año.


35. Spooky : EERIE. I grew up not far from the shore of Lake Spooky.
44. Done in by Buffy, say : SLAIN. Buffy is the vampire slayer. As far as know, she did not use sporting equipment.
45. __ Pérignon : DOM. Vintage champagne produced by
Moët & Chandon.
46. Lunch letters :
BLT
.
B
acon
L
ettuce and
T
omato sandwich -- YUM!
47. Simile words : AS AN. It's as ________ AS AN __________. [Phill in the blanks]
50. Affluent London area : CHELSEA. Along the north bank of the Thames, near CHELSEA bridge.
56. "Moulin Rouge!" director Luhrmann : BAZ. No idea.
57. Most blue state electees: Abbr. : DEMS. The DEMocratic Party is associated with the color blue, and the Republicans with the color red. I will say no more.
58. Secret stash : CACHE. I wish I had a CACHE of cash.
62. Piano exercise : ETUDE. From the Frech word for "study," a [usually] short, technically difficult exercise designed to build skill.
67. More valuable to a collector : RARER. A word rarely said, since it trips so awkwardly off the tongue.
68. World Court site, with "The" : HAGUE. A city in the South Holland province of The Netherlands, home to the U. N.'s International court of justice.
69. Holiday drink : NOG. A drink made with eggs, sugar, milk and possibly some alcohol. The origin of the word is uncertain.
70. Narrow valleys : GLENS. A Scottish term for a deep valley in the highlands,
71. Symbol of military power : SWORD. The pen is alleged to be mightier.
72. __ blue : SKY. The color of the SKY on a cloudless day. SKY gray is common in the Great Lakes region.
Down
1. "Carmina Burana" composer :
ORFF
. Carl. Carmina Burana is a suite of 24 medieval poems, mostly in vulgar Latin, that ORFF set to music in 1937. The topics include drinking, gambling, gluttony and lust. Some are quite bawdy. The entire suite takes over an hour to perform. Everyone has heard
O Fortuna
a thousand time, but I can't find another section excerpted, and at least this version is a different sort of performance.
2. __ sci : POLI. A social science discipline dealing with systems of government and the analysis of political activity and behavior. More than that I will not say.
3. Mars candy bar : TWIX. A biscuit covered with caramel and chocolate.
4. Lyric poet of Lesbos : SAPPHO. [ca 620 - 570 B. C.] Most of her poetry has been lost, and much that remains is in fragments. One complete poem is her Hymn to Aphrodite.
5. Initials for William or Harry : HRH.

H

is

R

oyal

H

ighness, a style of address for British royalty.
6. Diminutive Italian suffix : -INO.
7. Dishwasher cycle : RINSE.
8. Starting point for Frisbee golfers : TEE PAD. This is actually a thing - a concrete pad; preferred size is between 5x12 and 6x20 feet.
9. Loss of nerve : COLD FEET. The origin of the phrase is uncertain. It has been attributed to author Steven Crane, who added the phrase to the 2nd [1896] edition of his novel, Maggie: A Girl of the Streets.
10. Dedicated poem : ODE.
11. Luggage label : I D TAG.
12. Affair : FLING. A fling is of short duration. An affair can go on for years. Either way, it probably involves one or more trysts.
13. (In) agreement : SYNC. Derived from being synchronized.
18. Baby sharks : PUPS. I did not know that.
22. Take advantage of : USE.
25. Apple variety : I-MAC. Computer, not fruit.
26. Singer Horne : LENA. Genuinely great.


28. Mobile downloads : APPS. Software APPlications.
29. Brand of beard trimmers : WAHL.
30. Singer who co-composed a song in Elvish for "The Lord of the Rings" : ENYA. Eithne Pádraigín Ní Bhraonáin is a frequent crossword visitor, especially when I am blogging.


34. Over the hill : OLD. Let's not get personal.
36. CSA soldiers : REBS. Confederate soldiers from the American civil war.
37. Archipelago part : ISLE. One island in a group.
38. Spanish pronoun : ESTA. Meaning "this" or "that." Spanish pronouns must agree in gender and number with the noun they are referring to. ESTA is feminine singular.
40. Broadway king's domain : SIAM. From The King and I.
41. Ones with access : INSIDERS. They are always LET IN.
42. Nina of "The Ten Commandments" : FOCH. She played Bithiah, an Egyptian princess.
43. FWIW kin : IMHO.

F

or

W

hat

I

t's

W

orth and

I

n

M

y

H

umble

O

pinion.
48. Tankard contents : ALE. A roughly cylindrical drinking cup with a handle may be filled with a variety of libations.
49. Mythological maidens : NYMPHS. They consorted with PAN. Chicks just dug that old goat.
51. Ingrained : ETCHED.
52. Just sit around : LOAF. Like a couch potato, to continue the quasi-food reference.
53. Decisive, as a mistake : FATAL. Causes an epic fail.
54. Blue shade : AZURE. Like the SKY, perhaps.
55. "Poppycock!" : PSHAW.
56. Result of glacial calving : BERG. When an iceberg breaks off from a glacier, that is known as "calving."
59. Deceives : CONS. Probably derived from "confidence trick" or "- game," in which someone attempts to commit a fraud by first gaining the confidence of another person or group.
60. Hoops shot : HOOK. A basketball shot now rarely seen in the age of slam dunks, so named for the shape of the arm motion.


61. Like envelope-pushing comedy : EDGY. Or hair dos.
63. Hibernation spot : DEN. Suitable for bears and couch potatoes.
65. "Can __ now?" : I GO. The inverse of "Let me in."

66. Prefix with charge : SUR-. From the French, indicating over, above, or in addition. A surcharge is an additional charge levied for any of a variety of reasons.