INTEGRITY
I
Integrity is
Hard to find in the season
Of my discontent.
II
To find a code to
Live by, look deep inside,
Find your moral compass!
III
Family values:
Teach your children well, that they
Bring you pride and joy.
Update: I read Jenn's blog post first, before writing here. Clearly, my thoughts follow hers. Credit where it's due!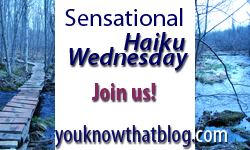 .