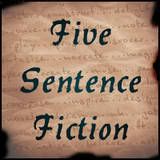 This week's prompt

made me stop and think. I've been jumping on Thursdays the last few weeks with a story in my pocket, in hopes that the prompt would fit - and have been pretty lucky. Of course, with 2 1/2 story lines in progress, I do have some options.

This time, I had a vignette taking form in the dark reaches of my fevered brain, but just now got it set down in print. I also have two other candidates that fit the prompt in not quite the same way, so this choice was difficult. Ultimately, it came down to this, because I think the story fits the prompt in a layered fashion, it's freshest in my mind, and I really wanted to stay

with Rob a while longer.

Let me know if you think it works.

CHARACTER


I haven't seen Marci in over a month, but when she greets me at the door with a warm kiss and a cold glass of Chardonnay I know it's going to be a good night.

Then, in her living room, I see the picture over her couch, and yes, I also see that it is where that enigmatic half-memory came from - I had seen it unfinished, in her studio several months earlier.

Her use of light and shadow is masterful

*

, the scene and setting excitingly familiar: those are indeed tiny glowing winged female creatures, and the

diaphanous

wings and the haunting beauty of that other-worldly face are evocative of, but not quite identical to the one I know so well.

Marci is rightfully very proud of her handiwork; she leans against me and asks, "Do you like it

?

"

"Oh, yes," I tell her, slipping my arm around her narrow waist, "I like it very much, indeed."

~ ~ ~ ~ ~




Reduced to a Haiku




Fairy in the frame
So like the one I lust for:
My lady friend's art

~ ~ ~ ~ ~

*

I have in my mind an image of this picture that is at once both vague and vivid. It is in a style very reminiscent of the late Frank Kelly Frease.