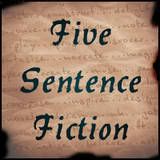 This is the
Joyous
moment I've been waiting for. Continuing
from here
.
THE JOY OF . . .
Gil empties his wine glass of the last joyous ruby sip, then reaches past Marci to place it on the counter.
Then he puts his other hand on the counter, enclosing her in his arms.
She puts her arms around his neck.
He slips his hands under her blouse; gripping her slim, taut waist.
Her smile is knowing as she takes his hand and leads him toward her bedroom, pausing to whisper in his ear, "Just as I remembered - not so unpredictable, after all."
~ ~ ~ ~ ~
Reduced to a haiku
Alex Comfort laid
It all out for us in his
Book, "The Joy Of Sex"
12/06 Update: Inspired by
Laura McHale Holland's entry
.
From somewhere without
Or better still, within — joy
Is where you find it.
~ ~ ~ ~ ~
UPDATE
: Next installment
is available here
.
Gil's thread
Marci's thread