Via Kerry, Our Challenge
from
The Garden
today is to "
consider the theme of Dichotomy: the division of parts which may complement one another or create a sense of opposition. . . . Your poem may take any form and you are free to explore subject matter of your own choosing
." This immediately popped into my head. I have no idea why.
long ago
when dark secrets could be kept
popes spent their days saving people's souls
and nights planting the seeds of
their bastards
~~::~~
"
Popes had mistresses as young as fifteen years of age, were guilty of incest and sexual perversions of every sort, had innumerable children, were murdered in the very act of adultery. In the old Catholic phrase, why be holier than the Pope
?"
Source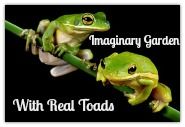 Afterthough
t: I was intending to write a
triquain
, but couldn't remember that name, nor the form. To be complete, the entry would require a 12 syllable line following the 9 syllable line, then another 9 syllable line following that to maintain symmetry. Maybe this is a dwarf triquain.