UPDATE 10/09 -- And, Behind the Curtain Flash Fiction Contest. Scroll past the story and the FSF Badge,
below the fold

.
This week marks the first anniversary of FSF, and Lilly invites us to chose any word from the past year's prompts. I chose --
FAERIES
Now that she is naked, I can she how different she is, with her over-long, lithe limbs and a narrow waistline that would be impossible on a human girl.

But everything important is there, in the right place, and wonderfully functional; it's the extra things that make her so - not just different, but special.

Her wings flutter as she hovers so close above me, her slender hips undulating in an exquisite defiance of gravity.

Yes, now I am so close, as her face leans into mine; eyes the green of spring grass, long narrow nose, delicate elven ears, thin lips in a conquering smile - and her teeth, glistening white, pointed, sharp.

Oh, sweet Jesus, so very, very sharp . . .
Link to FSF Central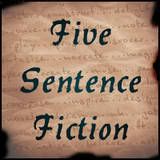 UPDATE
: While reading other FSF stories, at
Anonymous Legacy
I discovered a flash fiction contest sponsored by Anna Meade at
Yearning for Wonderland
The rules state:
No erotica - seduction and sex is fine, but graphic descriptions should not be the focus of the story.
This story is borderline by that standard, and which side of the line it falls is a judgment call. But I'll risk it -- why not? I think it's dark enough.