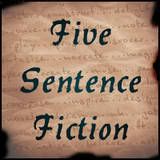 A prompt with so many possibilities . . .
It took me back a couple of decades to Marci's childhood, where I discovered this event. The challenge was to tell of it in five only moderately run-on sentences.
MIDNIGHT
Like many 10-year-old girls, Marci believed in Fairies; and unlike most she had good reason to - so midnight at mid-summer seemed like the best time to go find one.

She sneaked out of the house and ran the five blocks to the little neighborhood park - the perfect place at the perfect time - and just then a connection to their world opened, and she stepped across.

Soon she came across a real fairy, the size of a grown woman with a wing-span at least twice her height, awesome and terrible in her austere beauty, who was not at all happy to see her.

She spoke strange words in her melodious voice, rippling like the fast water in a shallow brook

*

, but somehow Marci understood their meaning: "Go home child, you were not invited here - and you are not yet ready."

When Marci woke the next morning she thought it might just have been a dream, but years later she discovered it was all true.
Reduced to a haiku
In search of fairies
A little girl at midnight
Is she just dreaming?
*
It sounded more or less like this:
Mene kotiin lapsi, sinun ei kutsuttu tänne - ja et ole vielä valmis.
Marci's thread