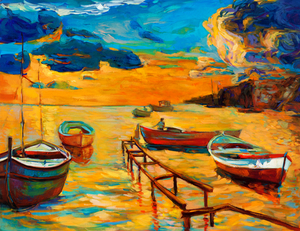 The Siciliana by Respighi that Kristjaan posted is from his Suite #3 of
Ancient Airs and Dances
, and is based on a much older anonymous piece of lute music. It has a definite 16th century sound.
That same source also inspired Spanish composer Joaquín Rodrigo for this selection.
Fantasia para un gentilhombre
Classical guitar totally defeated me, but I once tried to play a very simple piece of music from the Book The Renaissance Guitar compiled by Frederick Noad, which is the original source music I was speaking of above. In the book, this piece is called Spagnoletta, "Little Spanish Tune." It is taken from an Italian manuscript sourced by the 19th century musicologist Oscar Chilesotti.
Here it is played by the master
Andres Segovia
on the sandy shore
in the sunset's fading gold
old man strums his lute
airs and dances suite
a more modern impression
of ancient music